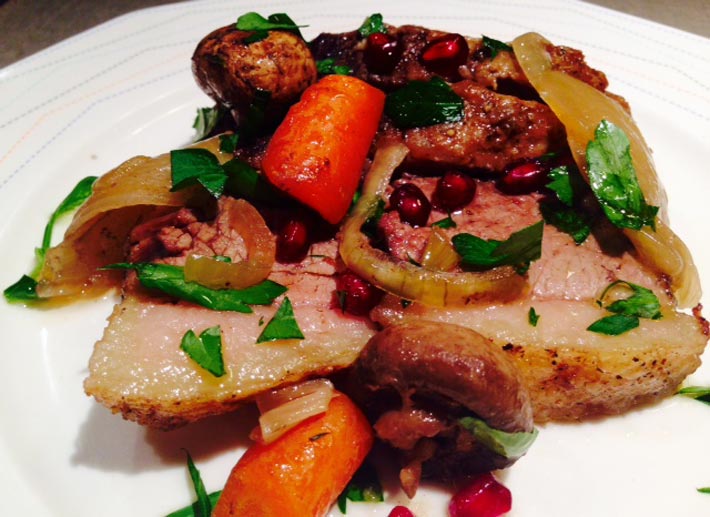 Stress Free & Yummy Holiday Brisket – This is a soul warming meal this is perfect for the holidays. Every year on Hanukkah, my whole family would cheer for my mom's brisket! For years, I have been asking for the recipe, and each year I make the brisket it is never as delicious as Mama Goldstein's.
So I went on a brisket journey and have made it 1,000 times in the oven, crock pot, and with a prayer (a lot of times LOL). I finally combined my mom's recipe with my wins in cooking this amazing dish. The best part is you can make this the day before because it tastes even better the next day!
This is great for Hanukkah, Christmas, or a cold snowy night to warm up your soul!
---
Slow Cooker Brisket Recipe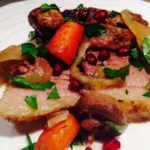 Course: Main Course
Cuisine: American
Servings: 6 people
Ingredients
Slow Cooker Ingredients:
3 lbs first cut brisket
1 package package of onion soup mix
1 tbsp ground pepper
1 tbsp salt
2 large Spanish onions (chopped)
2 large carrots (chopped)
6 whole garlic cloves
2 tbsp thyme
2 bay leaves
1 can 15 oz can of beef broth
1/2 cup red wine (your favorite type)
1 tbsp soy sauce
2 cup button mushrooms (whole)
Ingredients for Granish:
1 handful parsley (chopped)
1/2 cup pomegranate seeds
Instructions
First in a zip lock bag add the brisket, salt, pepper, and onion soup. Mix to cover the whole brisket with seasoning.

Optional: let marinate over night.

Next in the bottom of the slow cooker add all the other slow cooker ingredients. Also add a pinch of salt and pepper.

Now add the brisket on top of the veggies.

Cover and cook for 7 hours on low.

Top with parsley and pomegranates and enjoy!
---
Fun Picture Step By Step:
Step One
"Night Before Step" – you can skip this step if you're in a time crunch! BUT if you can do this the night before, pleeeeease do it. It makes a huge difference.
Dress the beautiful beef with lots of salt and fresh ground pepper. Keep grinding pepper until the peppery flecks get all over the meat!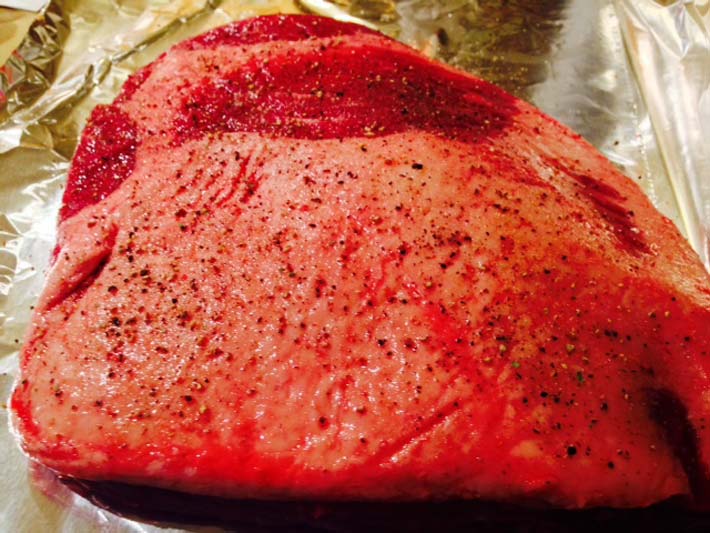 Brisket Therapy Session – crush the onion soup package and pour half of the package on one side and rub it in; pour the remaining half of the package on the other side and rub it on.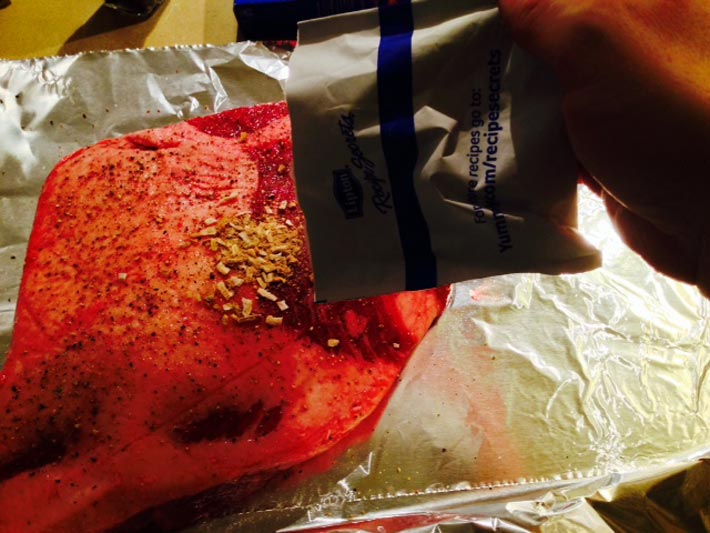 It's bed time! Put the meat in a zip lock and refrigerate overnight.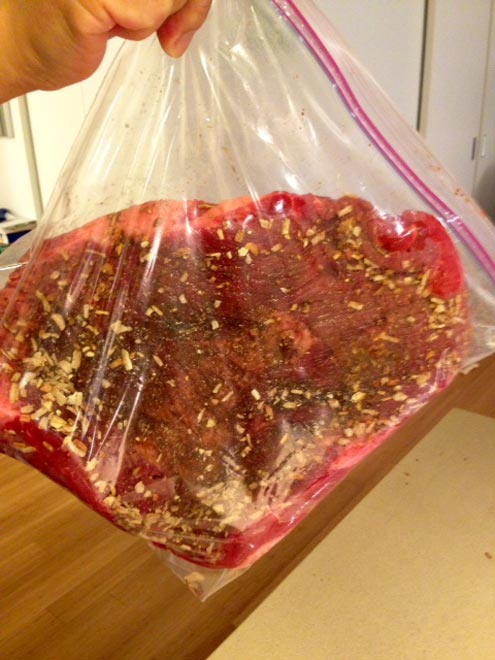 Important Tip – 30 minutes before "Step Two" remove meat from the refrigerator.
Step Two
First, look how sexy that brisket looks the next day and notice that I cut it in half so it fits better into your slow cooker. I live in a small NYC apartment, so I have a small slow cooker – but if you have a big one there is no need to cut it in half.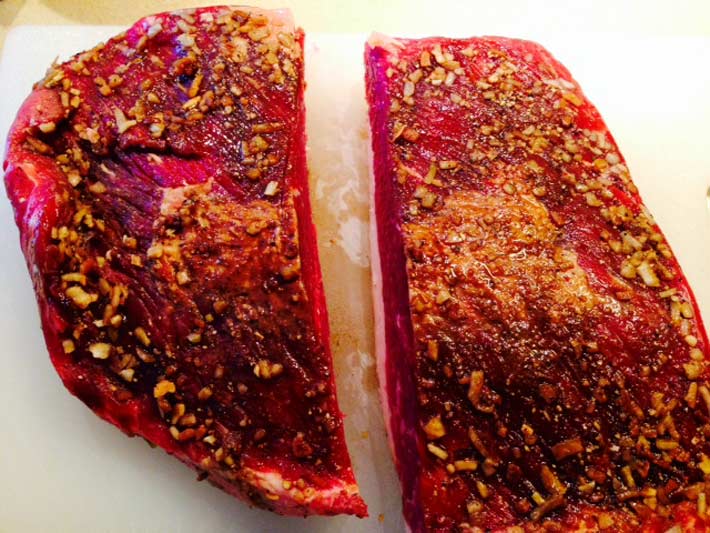 Step Three
Leave the mushrooms whole and clean with a damp paper towel.
Cut carrots into 1 inch chunks.
Slice one onion and quarter the second onion.
Tie thyme together with a kitchen string.
Place the mushrooms and garlic on the bottom of the slow cooker.
This will turn into a yummy side dish later and a bed for the brisket.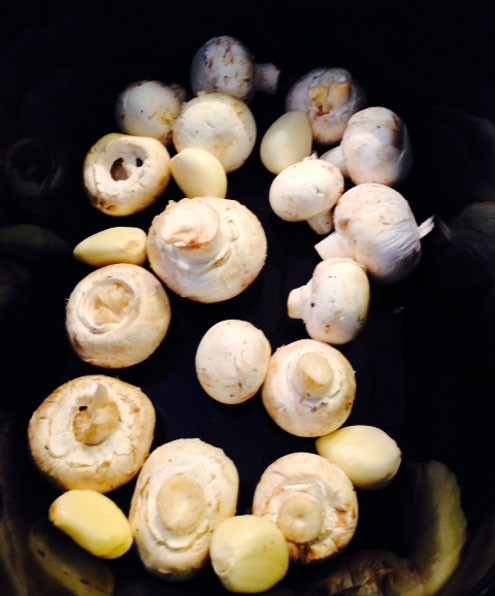 Place carrots, thyme, bay leaves and the quartered onion with the mushrooms.
Add a pinch of Salt and Pepper.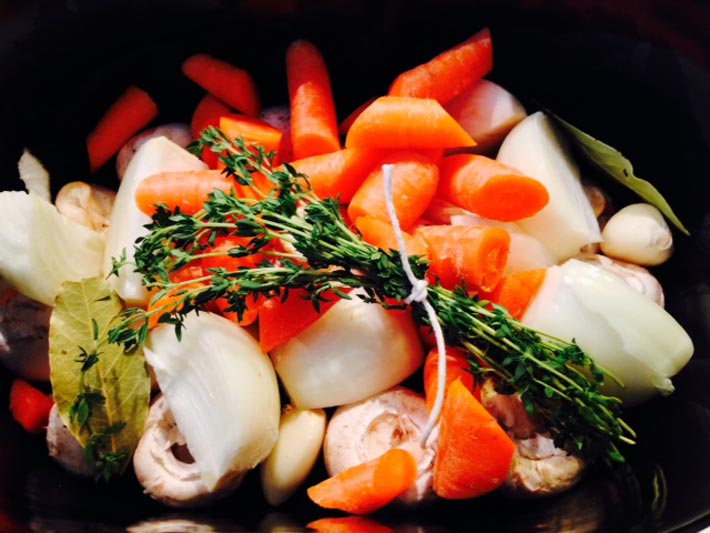 Step Four
Add the can of beef broth and 1/2 cup of wine.
Secret Ingredient – add 1 Tablespoon of soy sauce. This is not my Mom's recipe, but it adds something extra special!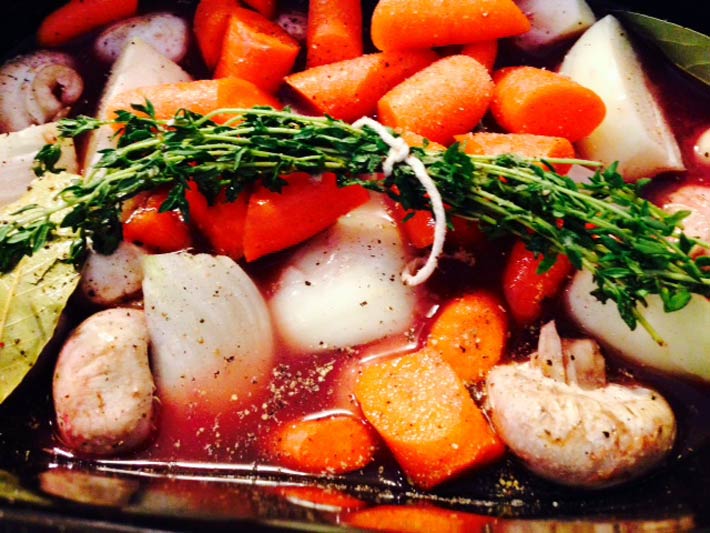 Step Five
Place the beautiful brisket on top with the fat side up.
Add the sliced onion on top.
Add pitch of Salt and Pepper.
Close the lid and turn the slow cooker on for 7 to 8 hours on low.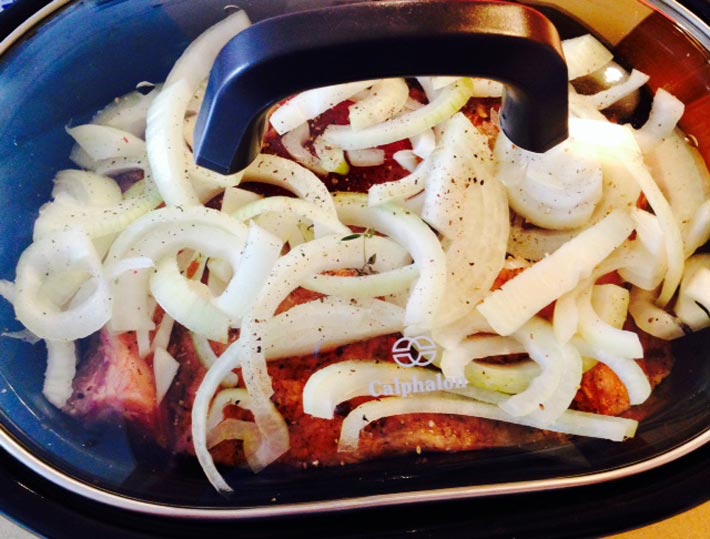 The house smells amazing, and if you live in an apartment like we do – you can hear neighbors wondering why the hall smells sooo good!
Step Six
Let your holiday masterpiece rest for 20 minutes on the cutting board and cover with aluminum foil.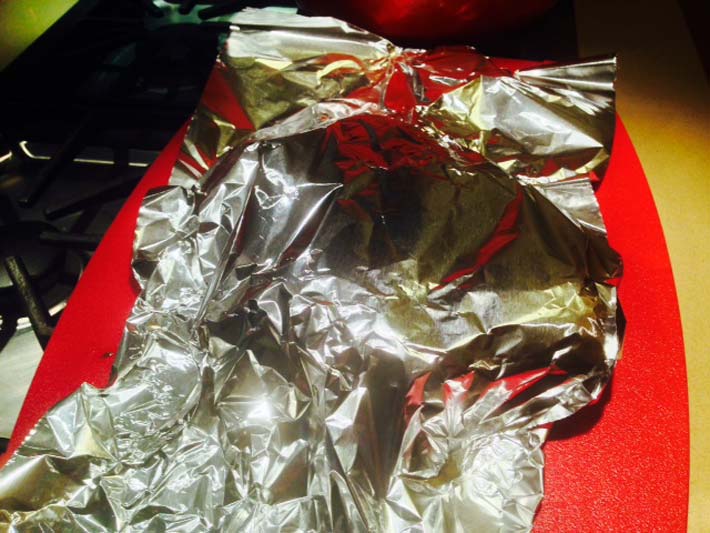 Cut the brisket against the grain (the grain is the lines across the beef).
Remove the veggies from the slow cooker and plate to serve as a side dish.
Reserve a cup or two of the broth to pour over the meat while serving.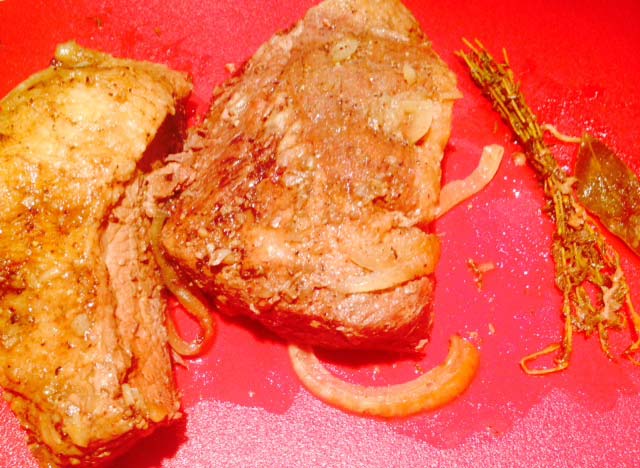 Sprinkle parsley and pomegranate seeds on top and enjoy!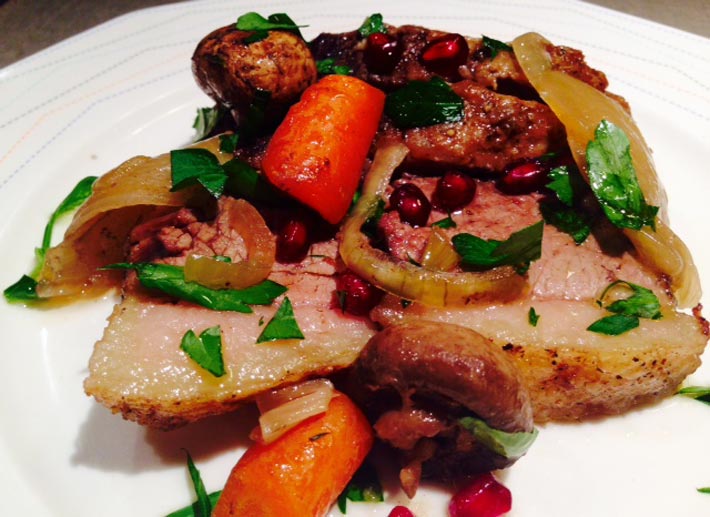 ---
Enjoy this soul warming meal! Give it a try and share pictures of your tasty creation 🙂
With a grateful heart and a yummy soulful tummy – Jay
(Visited 261 times, 1 visits today)
Subscribe for tasty, free recipes!