Just like my meatballs and mashed potato recipe, I was obsessed with making the perfect easy crispy potatoes. In order for it to be Chop Happy approved it had to be simple and crazy flavor.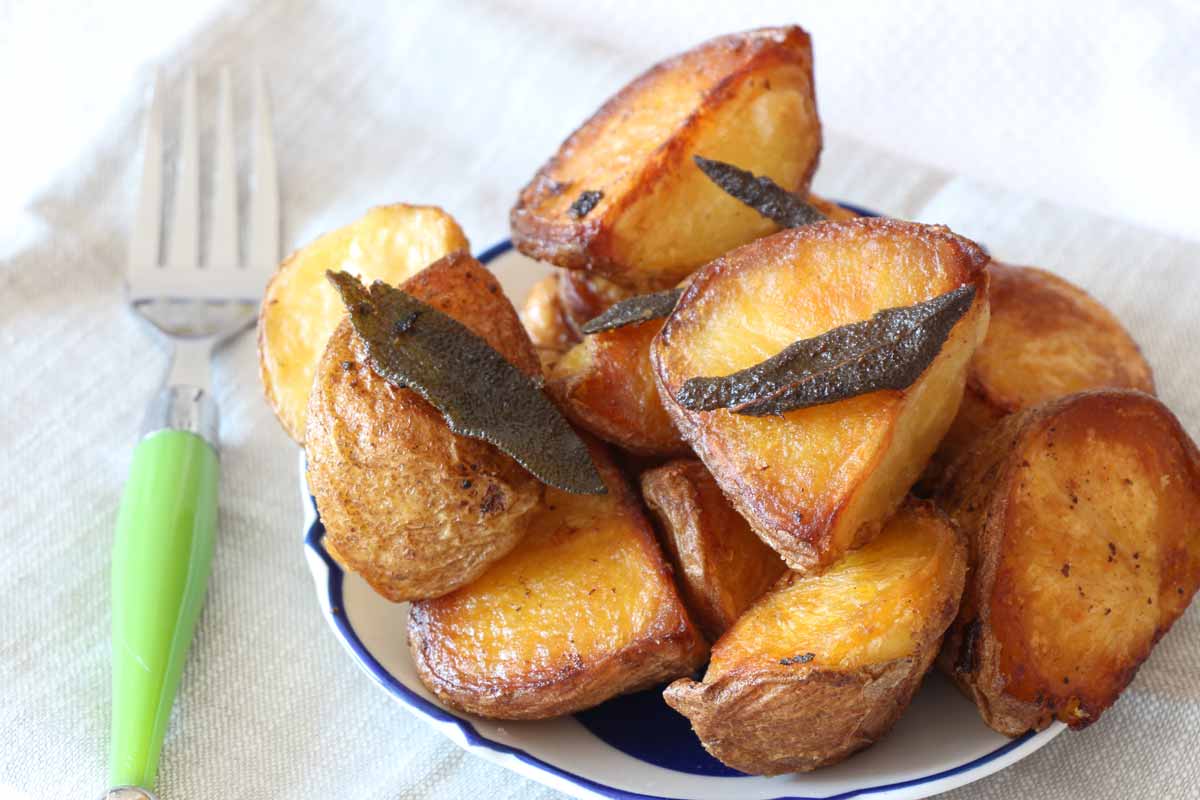 I tested, tested and tested and then one day I saw Jamie Oliver on Food Tube. He shows three ways to make guaranteed crispy potatoes and his technique works. I applied his principles and just changed the ingredients a little to make it my own recipe. Watch the video as it shows you the three steps to take. Happy Cooking and Eating!
Most important – I can't wait to see the smile on your face 🙂 Your taste buds will smile when you crunch into the crispy outside and the flakey creamy inside will burst with flavor!
Grab your ingredients and follow along with the video.
Crispy Sage Roasted Potatoes
Roasted potatoes with a crispy outside and a flakey creamy inside bursting with flavor! These potatoes will make your taste buds smile and wanting more.

Ingredients
2 1/2 lbs Yukon gold potatoes quartered
4 cups chicken stock (1 box of stock)
2-3 tsp salt (big pinches)
5 cloves garlic
1 handful fresh sage
1 lemon (use only the zest)
1 tbsp olive oil extra virgin (for drizzling)
2 tbsp butter
Instructions
Preheat oven to 400 degrees

Step 1: Boil the potatoes. In a pot add potatoes, chicken stock and big pinch of salt. Heat on high and once it reaches a boil set the timer for 10 more minutes. Drain out the liquid but keeping potatoes in the pot.


Step 2: Bruise the potatoes. With the hot potatoes in the pot, shake them about a couple of shakes just to bruise them (you want the potatoes to still maintain their shape).

Step 3: Mix with oil, herbs and bake. On a baking sheet add potatoes, garlic, sage, lemon zest, 2 big pinches salt, drizzle olive oil (three times around the sheet pan) and butter. Mix ingredients together using your hands.

Step 4: Bake for 50 minutes (no need to stir or shake) and enjoy!

Any questions about this recipe or any cooking tip you have, please write in comment section and I will answer asap!
With a grateful heart and an amazing potato tummy – Jay
(Visited 2,263 times, 1 visits today)
Subscribe for tasty, free recipes!