This is the juiciest easiest pulled pork recipe I have ever made. Any recipe where my personal chef (the slow cooker) is involved is a great recipe to me. What makes it so easy is everything goes in a blender, you rub the pork and then the slow cooker does the rest.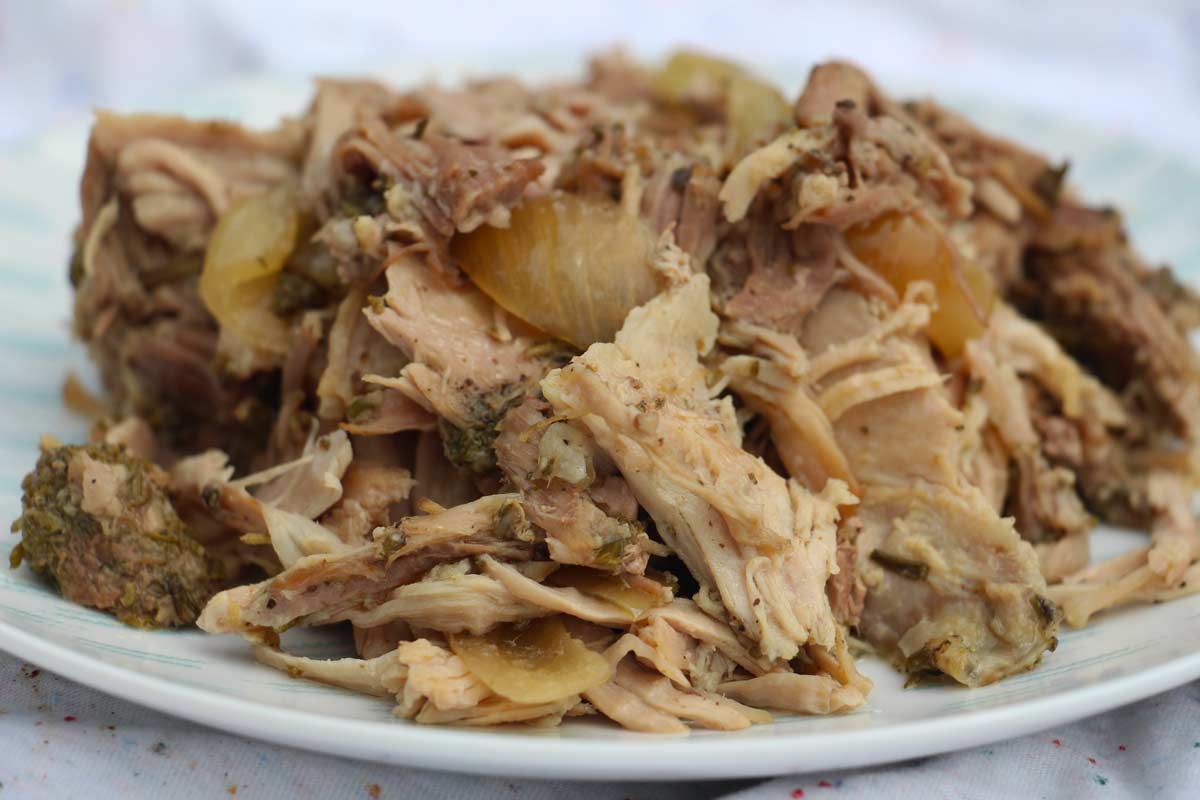 What makes this recipe so family friendly is it can make endless dinners.
Pulled pork in a taco shell – add salsa and avocado – and you have tacos!
In a grilled cheese sandwich – you have piggy grilled cheese!
Mix the pulled pork with mac and cheese to add a sweet rosemary flare to the dish.
 Mix it with BBQ sauce and pasta to make Texas pasta! 
My good friend David from Fedoroff's Roast Pork at Smorgasburg in Williamsburg, Brooklyn makes the best pork sandwich in all of New York! He helped me with this awesome recipe – and gave me two tips:
Find flavors that marry or love pork like rosemary and sage.
Don't use a lot of liquid, because the pork will let out its own natural juices.
This advice was so money – it made the recipe easier and boy is this pulled pork tasty! 
Get ready to go to work and let the slow cooker make your dinner. 
When you get home the smell of garlicky, earthy, sweet pork will fill your house and welcome you back from a long day to a hot amazing dinner!
---
Slow Cooker Pulled Pork Recipe
Serves 8 – 10
Ingredients
8 cloves garlic
1 (5-7 pound) boneless pork shoulder (with the ties removed)
2 onions chopped into large pieces
2 heaping tablespoons thyme (pulled off stems but no need to chop)
1 large handful sage (no need to chop)
1/2 cup of rosemary (pulled off stems but no need to chop)
Salt and pepper
1/4 cup extra virgin olive oil
1/4 cup white wine
---
Instructions
To make the paste
In a blender add garlic, thyme, sage, rosemary, big pinches of salt and pepper
Drizzle the olive oil into the blender as it chops the herbs
Blend until looks pesto like in consistency
Into the slow cooker – the night before (Optional but recommended to marinate overnight)
Add pork, season with 1 tablespoon salt and 1/2 tablespoon pepper all over pork
Rub paste into the pork making sure you coat all sides, add onions on top
Chill in the refrigerator overnight so the flavors can meld into the pork (Optional)
Time to cook!
Add wine, cover and cook 8 hours on low
---
Take The Leftover Pulled Pork and Make This Quick Recipe:
You can enjoy this all week long – it is so amazing! Give it a try and let me know what you think 🙂
With a grateful heart and an amazing pulled pork tummy – Jay
(Visited 273 times, 1 visits today)
Subscribe for tasty, free recipes!