I love pasta for breakfast, lunch and dinner! The ultimate pasta dish to me is carbonara.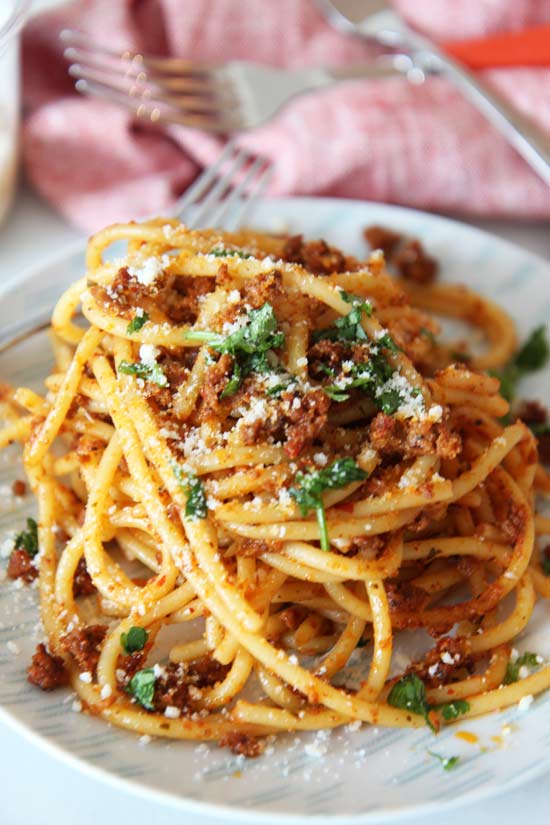 The best part is the pasta gets coated with this creamy silky cheesy sauce and every bite is light yet has hearty flavor fun. I have a confession to make just amongst us. I used to not like eggs. Shhh don't tell anyone! I am not sure why, but even as a kid when we would have birthday breakfast in our family I was the only one who chose bagels and lox. Everyone else chose bacon and eggs. As I got older I became more and more friends with eggs and we are now friends. 
Since I was not an egg fan until recently, I never had creamy wonderful carbonara. My friend Amy asked me to make carbonara for her and (of course) if I was going to make carbonara it had to become a Chop Happy recipe! When I made the Kale and Bacon Carbonara Pasta my taste buds fell in love. It was so easy! All the articles I read said to be careful to not scramble the eggs. If you follow a simple technique of mixing cheese and egg before pouring it on to the pasta – you are all set!
Definitely try this recipe and watch the video so you can see my simple ways to make this in a snap.
Grab your ingredients and follow along with the video!
---
5 Ingredient Chorizo Carbonara Pasta Recipe
Serves 4-6
Ingredients
1 lb Mexican chorizo
Handful cilantro, chopped
1 lb pasta (save 1 cup pasta water)
Pepper, for seasoning
1 cup parmesan cheese
2 eggs (stir and set aside)
2-3 tablespoons extra virgin olive oil
---
Instructions
PASTA
Prepare pasta ahead of time, set aside and save 1/2-1 cup pasta water
CHORIZO CARBONARA (the sauce)
Preheat large cooking pot on medium-low heat, swirl in olive oil
Add chorizo, break it up using potato masher, cook 1 min, turn and cook 1 min.
Add cooked pasta, a little of the pasta water and mix with chorizo, shut off the heat
In separate bowl – add parmesan cheese, eggs, big pinch of pepper and stir (mixture will look gloppy)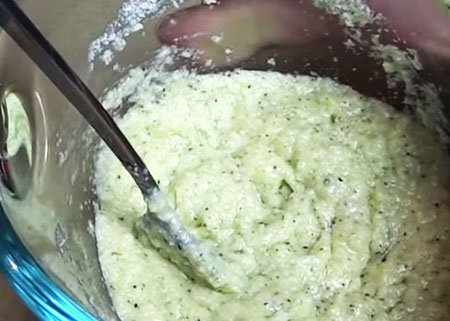 Mix into pasta until pasta gets covered and silky smooth with sauce, stir in cilantro
Plate, garnish with a little parmesan cheese – yum yum!
---
Are you an egg's best friend? If not …  do what I did and try this out! Let me know if you become an egg-friend like I did 🙂
With a grateful heart and an amazing carbonara tummy – Jay
This book changed my life and it is how I elevated my home cooking:

(Visited 2,852 times, 1 visits today)
Subscribe for tasty, free recipes!